20 May 2017
 - Heart patients with Pacemakers have complained about erratic heart activity ever since the installation of AMI Smart Meters to their utility service.

AMI Smart Meters emit EMFs/RFs with non-thermal radiation waves causing both assault and battery to a person's heart, body and wellbeing!  Those are legal charges that can, and should be, filed against utility companies, AMI Smart Meter manufacturers, and public utility commissions, I offer.

Consumers now have legal proof AMI Smart Meters positively interfere with heart activity. Can you imagine what happens to your heart when those meters operate 24/7/365 on your home's utilities?  And many homes can have three AMI Smart Meters: electric, natural gas and municipal water!
17 February 2016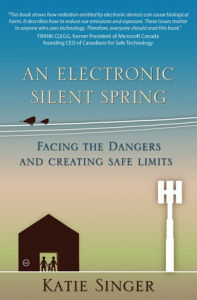 - The radiofrequency (RF) signals that cellular antennas, mobile devices and "smart" utility meters require to function are now ubiquitously and continuously emitted.
How do these signals affect wildlife?

Scientists report that RF fields emitted by cellular antennas alone potentially cause the decline of animal populations, reduction of some species' useful territory, and deterioration of plant health. Some species may experience reduction of their natural defenses, problems in reproduction and aversive behavioral responses.
Why would RF signals disturb birds and bees? Here's an answer from biologist Andrew Goldsworthy, PhD: To navigate and also to control their immune systems, birds and bees use magnetically-sensitive substances called cryptochromes. These are pigments found in virtually all animals, plants and many bacteria. Cryptochromes absorb blue-green and ultra-violet light and use this energy to drive photochemical reactions where light energy is converted to chemical energy. Cryptochromes measure light to control and reset animals' and plants' biological clocks. Some animals also use cryptochromes to sense the direction of the Earth's magnetic field.
29 July 2014
 - Utility companies across the United States are embracing an advanced utility technology known as smart meters. Like traditional meters, the primary purpose of these monitoring devices is to track households' and businesses' energy consumption. But unlike traditional meters, smart meters enable two-way communication between the electronic device and utility company in near real-time.
In the past, utilities could only view aggregate consumption by physically going out to a meter once a month to view and record how much energy had been used. But now, with these new electronic devices, utilities can track households' energy consumption patterns almost instantaneously.
While seemingly harmless from the outside, the implications of smart meters may be huge and detrimental for consumers in multiple ways. After just a few years of use, many consumers have experienced a negative side to these devices, including adverse impacts to their health, privacy, and even their utility bill.