20 November 2017
 - Did you know that your cell phone technically microwaves your brain?  And did you know that natural substances have proven radioprotective properties that can reduce your risk of adverse exposures?

Cell phones and the communications infrastructure that makes them possible are ubiquitous today, making complete avoidance of their significant radiotoxicy next to impossible.  Plenty of evidence already exists showing that cell phones emit a type of electromagnetic radiation -- in the microwave range -- capable of adversely affecting a wide range of organs, with the nervous system of those exposed perhaps most sensitive to its adverse effects.
Provocative research indicates that the problems associated with cell phone radiation exposure are far more profound that previously believed.  In fact, pregnant women may need to exercise additional caution in order to protect their unborn from adverse neurological effects associated with cell phone radiation exposure.
20 May 2017
 - Heart patients with Pacemakers have complained about erratic heart activity ever since the installation of AMI Smart Meters to their utility service.

AMI Smart Meters emit EMFs/RFs with non-thermal radiation waves causing both assault and battery to a person's heart, body and wellbeing!  Those are legal charges that can, and should be, filed against utility companies, AMI Smart Meter manufacturers, and public utility commissions, I offer.

Consumers now have legal proof AMI Smart Meters positively interfere with heart activity. Can you imagine what happens to your heart when those meters operate 24/7/365 on your home's utilities?  And many homes can have three AMI Smart Meters: electric, natural gas and municipal water!
17 February 2016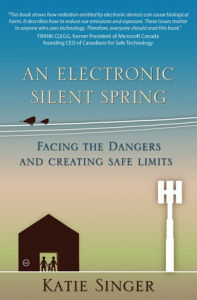 - The radiofrequency (RF) signals that cellular antennas, mobile devices and "smart" utility meters require to function are now ubiquitously and continuously emitted.
How do these signals affect wildlife?

Scientists report that RF fields emitted by cellular antennas alone potentially cause the decline of animal populations, reduction of some species' useful territory, and deterioration of plant health. Some species may experience reduction of their natural defenses, problems in reproduction and aversive behavioral responses.
Why would RF signals disturb birds and bees? Here's an answer from biologist Andrew Goldsworthy, PhD: To navigate and also to control their immune systems, birds and bees use magnetically-sensitive substances called cryptochromes. These are pigments found in virtually all animals, plants and many bacteria. Cryptochromes absorb blue-green and ultra-violet light and use this energy to drive photochemical reactions where light energy is converted to chemical energy. Cryptochromes measure light to control and reset animals' and plants' biological clocks. Some animals also use cryptochromes to sense the direction of the Earth's magnetic field.