23 March 2017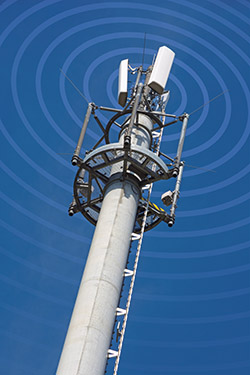 - Telcos tell us the public is demanding faster rates on their devices and that is why they need to build more towers and turn up the power density. Do you want to download ten videos simultaneously rather than just one? We are a misinformed public with minds etched by PR and advertising. We are told of the benefits of a wireless world such as convenient communications, improved work efficiency, and safety devices.
The law of polarity holds that wherever there are benefits we find shortcomings. We do not hear that in 2009 over 300,000 Swedes indicated they are detrimentally affected by electromagnetic radiation. We are not presented the stories of thousands of Australians experiencing anxiety, headaches, brain fog and even heart palpitations, lost in an unreceptive, outdated and often derisive medical system. We aren't informed of the snake-oil industries that have sprung up to 'service' the desperate.
Presently 'we' as powerful individuals are not demanding faster downloads. There is a collective entity influencing and it can be difficult to create space to 'see'. I switch on my phone for around 10-20 minutes per day. Not everyone can do this, and I may have a work-lifestyle that requires more connectivity in the future. Why not experiment? The act of experimenting is an act of questioning the status quo. How low can you go?
24 September 2016
 - The design is sleek; the technology impressive; the camera stunning; the sound awesome. And this digital device is even more high-powered – if only it were safe.

And big news, there is no headphone jack.

Apple™ states "The new AirPods offer a game-changing listening experience. Designed with a huge amount of forward-thinking technology inside a tiny device, these wireless headphones combine crystal clear sound with a new sense of freedom."

While this innovation delights tech enthusiasts, prominent public health experts are raising the alarm.

Why the concern? Simply, there is a growing body of scientific evidence that wireless microwave radiation is potentially harmful to human health, including damage to DNA, leakage of the blood-brain barrier, cognitive impairment and cardiac symptoms. How can this be?
3 September 2016
 - Can you see and feel its effects in the air?  Of course you can, but you don't know how to identify it correctly!  It's all around us like an ocean of electromagnetic frequencies that we are swimming in, which are pulsed out from many more sources than we can begin to imagine and, more confoundedly, not accept that they are causing damage to all living elements, especially young children who are most vulnerable.
I'm talking about electromagnetic fields (EMFs) or radiofrequencies (RFs), which have become so ubiquitous that we haven't stopped to realize what's been happening to us—especially children exposed to Wi-Fi in schools—and how trees [4] and other plant life are being damaged.
Microwaves that are emitted by cell phone and mast towers, cell phones, AMI smart meters for electric, natural gas and water utilities, microwave ovens, and all 'smart' appliances that contain ZigBee chips, which are two-way radio transmitters operating using microwave technologies.
Many people today are beginning to realize that they function in what they call a 'fog' and can't figure out why.  They are run down with no energy and constantly enervated.  Does that sound like you or someone you know, especially your children?  Then think electromagnetic hypersensitivity (EHS).