13 July 2016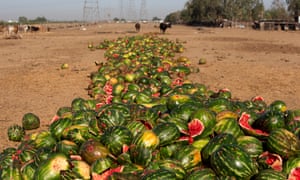 - Discarded food is the biggest single component of US landfill and incinerators, according to the  Environmental Protection Agency.
Americans throw away almost as much food as they eat because of a "cult of perfection", deepening hunger and poverty, and inflicting a heavy toll on the environment.
Vast quantities of fresh produce grown in the US are left in the field to rot, fed to livestock or hauled directly from the field to landfill, because of unrealistic and unyielding cosmetic standards, according to official data and interviews with dozens of farmers, packers, truckers, researchers, campaigners and government officials.
8 March 2016
 - In order to celebrate man's most valuable freedom — the freedom to choose — Danish volunteers are now giving grocery shoppers the option of purchasing items seen as "unloved" by other major supermarkets in the nation.
According to TreeHugger.com, Denmark's WeFood grocery store, located in Copenhagen, has a different proposal. Instead of wasting mislabeled products, ugly produce, or items that come in damaged packaging, the brand new grocer wants to offer consumers a choice — and everyone is cheering it.
Each year, TreeHugger reports, 163,000 tons of food are discarded by Danish grocers. In many cases, discarded products aren't necessarily bad. Instead, consumers are wasting "treats for a holiday that happened last week, a ripped box of cornflakes, plain white rice mislabeled as basmati, or anything nearing its expiration date."
With that in mind, the WeFood founders decided to sell these perfectly fine products that don't pass the standards of what consumers usually expect from a typical grocery store. They created a business model based on the idea that consumers have a choice, and if those consumers are comfortable with the fact that what they are consuming may not be 'acceptable' elsewhere, they are free to purchase that food.