8 April 2017
 - "Managed chaos". Brilliant. That's Washington's foreign policy in a nutshell.
That's why there's been no effort to create strong, stable, secular governments that can provide security for their people in any of the countries the US has destroyed in the last 16 years, because this long string of failed states that now stretches from North Africa, through the Middle East and into Central Asia (The 'arc of instability') create a permanent justification for US military intervention as well as strategic access to vital resources.
So why waste money and time on nation building when nation building runs counter to Washington's strategic objectives? Instead, decimate the nation state wherever you go, and leave the people to scratch out a miserable hardscrabble existence for themselves while fending off the relentless violence and persecution of tribal elders or local warlords.
7 April 2017
 - So, it comes down to us. We the people are the last resort, the last line of defense, the last chance for peace. Without immediate action by us, escalating events may soon result in the unthinkable.
But perhaps if enough of us get on the phone and are persistent and loud enough, our Senators and Congressional reps will do their job, which is to represent us. Congress must immediately pass legislation rescinding the broad war powers bestowed on the president after 9/11. Here is the Washington Capitol switchboard number (202-224-3121). Please call Friday morning — EARLY!  We must catch our reps before the weekend.
30 March 2017
- The US cannot be the world's "moral conscience" by any stretch of the imagination, as both its actions and inaction in Yemen, Iraq and Syria show a lack of basic compassion, according to Russian Foreign Ministry spokeswoman Maria Zakharova.
American envoy to the UN Nikki Haley said on Wednesday that the US is the "moral conscience" of the world, and that it would not give up this role, at the same time calling the United Nations Human Rights Council (UNHRC) "corrupt" – without providing any evidence for her accusations.
American actions worldwide, however, mainly constitute a significant lack of conscience, Russian Foreign Ministry spokeswoman Zakharova said at a press briefing on Thursday.
15 February 2017
 - U.S. President Donald Trump made unequivocally clear, on February 14th, that the new Cold War between the U.S. and Russia will continue until Russia complies with two conditions that would not only be humiliating to Russia (and to the vast majority of its citizens), but that would also be profoundly immoral.

One of these two conditions would actually be impossible, even if it weren't, in addition, immoral. For Vladimir Putin to agree to either of these two conditions, would not only be a violation of his often-expressed basic viewpoint, but it would also cause the vast majority of Russians to despise him — because they respect him for his consistent advocacy of that very viewpoint. He has never wavered from it. The support of Russians for that viewpoint is virtually universal. (This article will explain the viewpoint.)
21 October 2016
6 October, 2016
 - Presently, the Syrian Arab Army and allies are advancing inexorably towards the liberation of Aleppo from the hordes of US coalition-funded terrorist brigades, headed up by Al Nusra Front aka Al Qaeda, and Washington's foreign policy is in turmoil.  Despite its best efforts, the US coalition 'intervention' in Syria has been an unmitigated disaster, having hit the brick wall of President Bashar Al Assad's popularity and the fortitude of the Syrian people in withstanding everything the US coalition has flung at it, militarily and on the multi-million dollar propaganda front. Now an increasingly frustrated US coalition has pulled what they believe to be the Ace in their pack of public-perception-altering cards.

Once again, the activist website Avaaz has been deployed, the flagship of the fleet of media and propaganda vessels all pouring forth the narrative that supports the US coalition demands  for a "we-fly-you-dont-zone".  This week, Avaaz launched their No Fly Zone petition.  The infamous No Fly Zone petition that heralded the destruction of Libya in 2011, has now been tailored and dressed up, to be used against Syria. The language is clear: this petition calls for war.

Emotively labeled the "Protect Aleppo's Children Now!" campaign, Avaaz has pulled out all the stops...
2 November 2015
 - This study reveals that U.S. military forces were directly responsible for about 10 to 15 million deaths during the Korean and Vietnam Wars and the two Iraq Wars. The Korean War also includes Chinese deaths while the Vietnam War also includes fatalities in Cambodia and Laos.
The American public probably is not aware of these numbers and knows even less about the proxy wars for which the United States is also responsible. In the latter wars there were between nine and 14 million deaths in Afghanistan, Angola, Democratic Republic of the Congo, East Timor, Guatemala, Indonesia, Pakistan and Sudan.
But the victims are not just from big nations or one part of the world. The remaining deaths were in smaller ones which constitute over half the total number of nations. Virtually all parts of the world have been the target of U.S. intervention.
The overall conclusion reached is that the United States most likely has been responsible since WWII for the deaths of between 20 and 30 million people in wars and conflicts scattered over the world.
23 October 2015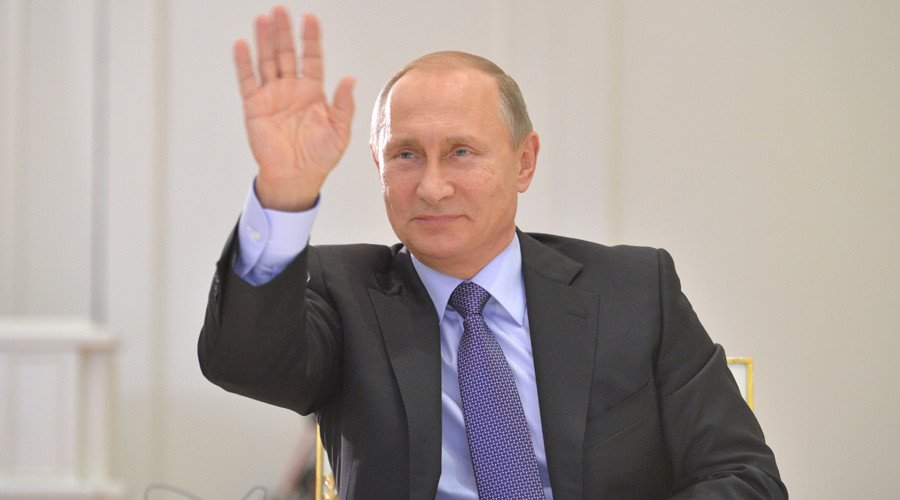 - At the final plenary session of the 12th Annual Meeting of the Valdai International Discussion Club on October 22, Russia's President Vladimir Putin said that Washington relies not on diplomacy, discussion, and compromise, but on lies and coercion and treats its allies not as allies but as vassals. Putin described the folly of Washington's plan to "fight terrorism" while using the terrorists to overthrow governments that refuse to be Washington's vassals.
Every time I read a Putin speech, I encounter a highly intelligent and moral person who is trying to lead the world to peace and away from war.
16 October 2015
- As a student of international politics and economics for most of my adult life, I must say the emotional restraint that Vladimir Putin and the Russian government have shown against tasteless ad hominem attacks, from people such as Hillary Clinton who likened Putin to Adolf Hitler, is remarkable. But more than restraint is required to bring our world from the brink or some might say, the onset of a World War III. Brilliant and directed action is essential. Here something extraordinary has taken place in the very few days since President Vladimir Putin's September 28, UNGA speech in New York.
The Obama Administration has been training terrorists of Al Qaeda/Al Nusra, allegedly to fight ISIS, much like the disgraced General David Petraeus did in Iraq and Afghanistan along with Obama's special ISIS coordinator, the just-resigned General John Allen. The US-trained "moderate" terrorists were being readied, it's now clear to all the world, in reality, to battle Assad and open the way for a Muslim Brotherhood takeover of Syria and a real plunge into darkness for the world if that were to succeed.
Now, with the truth in the open, exposed by the remarkable successes of a handful of Russian fighter jets in four days against ISIS, accomplishing more than the US "anti-ISIS coalition" in more than one year, it is clear to the world Washington has been playing a dirty double game.
4 October 2015
 - This partial timeline provides evidence that the U.S. government and Obama in particular bear a significant responsibility for the Syrian war and the results of that war. Obama approved elements of CIA plans that go back over 65 years. The CIA meddling is distinct from the Pentagon's failed plan to train moderate rebels, not covered in this timeline.
Maintaining and extending the U.S. Empire is the dominant underlying and unquestioned assumption in all of this and in all of the meddling going on in other countries. It is the idea that American ways are superior and should be extended over the globe to create some kind of world order that's in some sense vaguely utopian or reaches a kind of ever-progressing ascent to God only knows what. There is no real benefit to us average everyday Americans from any of this government meddling in Syria. We can ascend on our own. We can progress or regress on our own, without such interference. We do not need to bring down Assad and replace him with phantom moderates of the choosing of the State Department, the CIA or a president.