10 November 2017
 - Friends, we are thrilled to share the amazing news that today an Alabama county took possession of Nosey through court order, and she is being transported to The Elephant Sanctuary in Tennessee pending a future hearing to determine whether she will be permanently seized from the Liebel family.

This is of course an outstanding result and reason to be hopeful about Nosey's future, though please be mindful that future legal challenges exist to ensure her permanent placement in sanctuary.

As CompassionWorks International learns more, or as there are actions you can take to support the seizure of Nosey, we will continue to update this petition.
8 November 2017
Please join us tonight at 6 pm GMT/UT (see this link for times around the world) to honour the life of our beloved elephant, Mohan, who died on 31 October. The Earth Heal members will be lighting candles for an hour and sending him our love and energy to assist him on his journey as a soul. Deep gratitude for the wonderful work done by Wildlife SOS for Mohan and all the other animals they have rescued. See this link for the video clip they created in memory of Mohan.
1 November 2017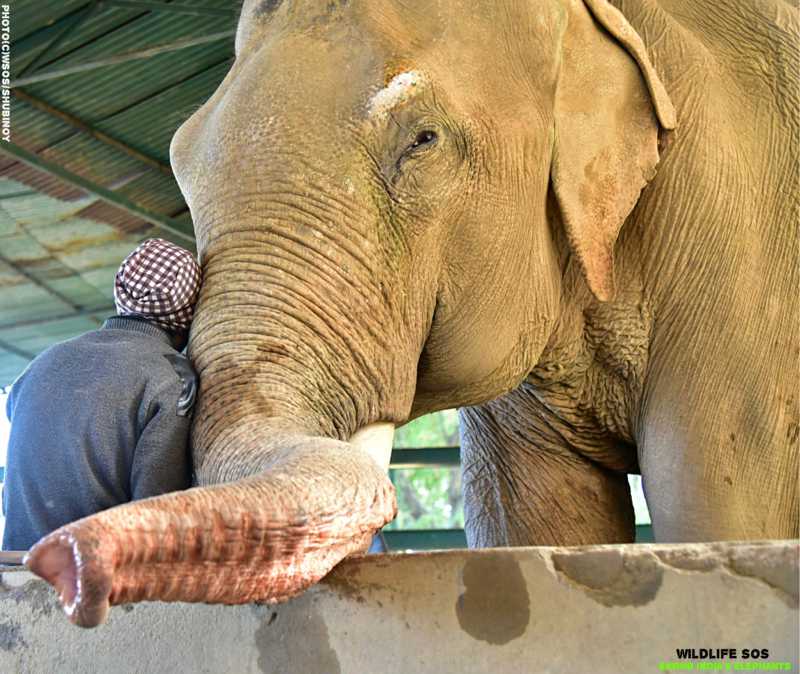 - Our journey with Mohan started long before he arrived at the Elephant Conservation and Care Center. For more than a year, his hunched figure, weak and emaciated, had been in the middle of our most complicated and controversial rescue operations — and the fierce legal battle that accompanied them. After a volatile mob thwarted our first rescue attempt, repeated delays pushed back a second one even as the informants we'd deployed to keep an eye on him sent images of a gradually deteriorating elephant that left us all increasingly alarmed with every passing day. The newspapers begin to call Mohan "the world's unluckiest elephant," and as hard as we were willing to fight for his freedom, it really did feel like fate had dealt him the cruelest of hands. Five decades of loneliness and abuse after being snatched from his herd and a life of freedom, Mohan's life of horror seemed like the cruelest of jokes.

By the time we had the legal paperwork to undertake another rescue attempt, we were afraid he wouldn't survive the rescue and the journey home — this magnificent being reduced to a defeated shell of an elephant. But we proceeded, fearing the alternative was worse. It was the stroke of midnight on the 22nd of September, when Mohan gingerly boarded the Wildlife SOS elephant ambulance. The entire rescue team, hearts racing and absolutely silent, could suddenly breathe again, smiles impossible to control. It seemed as if things were finally looking up for the world's unluckiest elephant.
26 October 2017
 - René Descartes, whose most famous quote is, "I think, therefore I am," also stated that animals acted merely by instinct, and that even their cries during vivisection came as reflexes rather than from pain as humans experience. This was a ghastly error that reverberates even today in animal research, as experiments worldwide subject millions of animals to terrible pain in the name of science. But that's another story.
Before humans shifted into rational thinking, we saw our world as reflections of us; we knew we existed as a part of the great web of existence. And we therefore understood that non-human animals are different from us in degree only. We did not see ourselves as distinct, as a completely separate species. We knew that other animals operate with awareness, understand the world in different, sometimes superior ways, and respond consciously to the world. We saw them with compassion.
But we've left that behind since Descartes. We still, as a society, see non-human animals as instinctual, reflexive beings. At least that's the official line. I grew up with this mindset. While I grew up with cats, the occasional dog, monkeys, hamsters, and so on, I observed them through this rational, scientific filter and interpreted their actions from within its framework. I especially enjoyed cats, and spent many happy hours petting and observing them—still I never really saw them. At least, most of the time. Occasionally, they jolted me awake with behaviors I couldn't explain as instinctual.
9 September 2017
  - In scenes reminiscent of the Biblical story of Noah and his ark, Southwest Airlines took the extraordinary step this week of filling up the cabin of one of its planes with orphaned animals from flood-hit Houston.
Animal shelters all over Texas are at maximum capacity after Hurricane Harvey devastated the region, leaving many pets homeless and desperate. Enter Southwest Airlines, who together with animal rescue groups helped dozens of animals escape the floods, easing the burden on overworked shelters and creating room for more rescued pets.
Flying the orphaned animals to the Helen Woodward Animal Center in San Diego, California was literally a life-saving gesture. The Texas rescue group, Operation Pets Alive! had taken in an overwhelming number of orphaned dogs and cats who had inhabited shelters before the storm and were suddenly facing euthanasia simply because they had no place to go. The joint operation between the Helen Woodward Center and Southwest Airlines to relocate these animals allows Operation Pets Alive! to increase animal rescue operations in Houston, as it begins to recover from the effects of the devastating hurricane.
Volunteers helped board the animals into crates in the specially converted cabin of the aircraft, giving them a chance of a new life in California where it is hoped that they will eventually find homes. We don't yet know if they had access to in-flight entertainment and meals, but we would like to think so!
30 August 2017
 - Pharmaceutical firms, chemical companies, contract testing facilities, and some cosmetics manufacturers are bad news for millions of animals locked in their laboratories. But when it comes to cruelty, some cause even more pain and misery than others.

To name the worst of the worst, we've looked at the number of animals the companies killed, the most painful and invasive experiments conducted, how far they lag behind industry animal protection standards, their refusal to use available non-animal test methods, and their appalling histories of federal Animal Welfare Act (AWA) violations.

John Ratliff, Covance: As the world's largest breeder of dogs destined for suffering and pain in experiments—and as the biggest importer of primates for experimental purposes in the U.S.—Covance and its chief executing officer, John Ratliff, is the worst CEO for animals in laboratories. Covance is a contract testing company that tests everything from drugs to industrial chemicals to cosmetics ingredients for client companies. In Covance's tests, caustic chemicals are dripped into the eyes of animals and experimental substances are applied to their raw and abraded skin. They have been forced to ingest or inhale deadly toxins, and experimenters have intentionally induced cancer in animals.
27 July 2017
 - Over a century ago, naturalist Charles Darwin observed that all humans, as well as other animals, exhibit and express emotion in remarkably similar ways. He theorized that vocal expressions of feelings date back to the earliest terrestrial species, hinting that all land animals — and birds too — share a basic, inherent understanding of each other.
New research not only supports Darwin's views, but also identifies a universal "language" of arousal emitted and understood by amphibians, reptiles, birds, and mammals. The findings, published in the journal Proceedings of the Royal Society B, suggest that we are at least somewhat like the famous fictional character Doctor Dolittle, who could decipher animal communications with ease.
"Our study shows that humans are naturally able to recognize emotional arousal across all classes of vocalizing animals," said lead author Piera Filippi, a postdoctoral researcher at the University of Aix-Marseille and the Max Planck Institute for Psycholinguistics. "This outcome may find an important application in animal welfare, suggesting that humans may rely on their intuition to assess when animals are stressed."
Prior research additionally suggests that animals understand human emotional vocal expressions. Pet owners are often more attuned to this, given the reactions that dogs, cats, horses, birds, rodents, and more have to a range of owner outbursts, from angry scolding to happy praise.
10 May 2017
 - Environmental activists are urging the European Commission to take action against Denmark, accusing the country's officials of facilitating the slaughter of pilot whales and other marine mammals in the Faroe Islands.
Sea Shepherd Netherlands announced that it has officially submitted a request to the commission to launch "infringement proceedings" against the Scandinavian country, claiming it has the formal support of 27 members of the European Parliament.
The complaint centers on a practice known as Grindadráp, or Grind, in which "hundreds of pilot whales are driven onto the beaches of the Faroe Islands using motor boats, then slaughtered..." a Sea Shepherd press release states.
29 April 2017
 - For many people working in animal advocacy, the failure of science to produce better ethical results has been a bitter disappointment. For us (a scientist and an ethicist), an early feeling of optimism has given way to frustration, even alarm, about what is happening to animals globally. Animals are, by many measures, objectively worse off than ever before. Despite the extensive database on the cognitive and emotional capacities of cows and pigs, burgers and bacon continue to be popular foods. According to a recent report by the Worldwatch Institute, global meat production and consumption have increased steadily over the past four decades, rising by 20 percent in the last decade alone.
And although captivity is known to cause profound emotional trauma to large mammals such as orcas and elephants, entertainment venues continue to keep these animals on display. SeaWorld has agreed — under intense public pressure — to end captive breeding of orcas and stop using them to entertain the public, and yet the marine park still plans to hold orcas captive. (At the same time, China seems to be embracing orca shows.) And though the NIH took a laudable first step by ending its support of research on chimpanzees, overall, hundreds of millions of monkeys, cats, dogs, and other animals are used in research and testing worldwide. (It's impossible to know precisely how many, since only a handful of countries track these data and many creatures are excluded from the tallies.)
18 March 2017
R.I.P. Zorro - much loved and missed by his humans and cat and dog friends...