16 June 2017
 - More than a million people have signed a petition demanding that the European Union ban glyphosate, the main ingredient in Monsanto's Roundup weed killer, over fears it causes cancer.
"In less than five months, more than one million EU citizens have joined our call for a glyphosate ban," said David Schwartz, coordinator at the European Citizens Initiative, which is behind the petition, as quoted by AFP.
"European citizens aren't fooled by the pesticide industry's lobbying efforts or the faulty science it's peddling," he said.
15 June 2017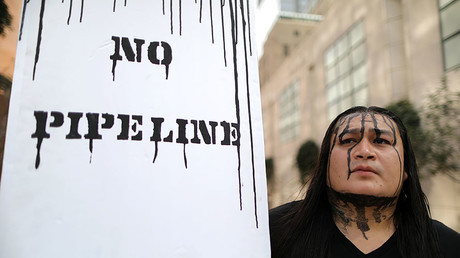 - The Standing Rock Sioux Tribe and allies are hailing a federal judge's decision that the Dakota Access Pipeline's permits shall be remanded until further notice. The court found that the controversial project's permitting process was insufficient.
The tribe and others bringing the lawsuit have long called for the Dakota Access Pipeline to be shut down. US District Court Judge Boasberg of the District of Columbia did not order any interruption in the DAPL's oil transporting operations on Wednesday, but he did issue a 91-page decision that states the US Army Corps of Engineers did not adequately consider various potential impacts of oil spills on fishing rights, hunting rights, or environmental justice, when it issued the permits. 
An independent research firm, Clearview Energy Partners from Washington, DC, which looked into the case, pointed towards "omissions" in the Corps' final analysis of the pipeline and may be taken care of soon, according to Reuters.
11 June 2017
 - More than 130 families in the Italian province of South Tyrol are allegedly threatening to seek asylum in Austria, just days after the Italian president signed a decree requiring mandatory vaccinations for school admission.

It comes just two days after Mattarella signed a decree requiring children entering school to have 12 mandatory vaccinations, according to ministry sources.

Unvaccinated school-age children will still be allowed to enroll in school, but their parents will be fined anywhere from €500 to €7,500 (US$559 to $8,386).

"We will not poison our children," Holzer said, adding that asylum is not only for those fleeing war, but also for those who are being deprived of human rights.